Have your day, your way with Ceremonies in East Sussex.
It is important that your big day is one you will remember and treasure and filled with the things that are important to you. Which is why we invite you to include your own personal additions. Personal additions can include readings, music, a formal giving away and personal vows.
We are pretty flexible when it comes to personal additions, however there are some legal restrictions you need to be aware of.
Civil ceremonies are non-religious ceremonies which include both marriages and civil partnerships. The law does not allow religious content to be included in a civil ceremony. This means the addition of prayers, hymns, a passage or verse from a sacred text, a ritual or any other religious poems, songs and music cannot be included in a civil ceremony. If you wish to include something religious you may consider doing this once the ceremony has ended (and your Registrars have left) or at some point during your reception.
Readings and Poems
A meaningful literary extract or a poem read by a specially chosen friend or family member is a lovely way of personalising a ceremony and including others in your special day. Or perhaps a budding poet in your friendship circle has written something especially for you both. There are various points throughout the ceremony where a reading could be read, this can be discussed with your Registrar on the day.
Music
Music is a great way of setting the tone of your ceremony. There are three occasions where music is played during the ceremony. At your entrance into the ceremony, during the signing of the schedule and when you exit as a newly married couple or civil partners.
Personal Vows & Promises
What's more personal than writing your own vows? Being able to tell your partner exactly what they mean to you and the things you want to promise them, creating a magical moment for you both. Personal vows will be said in addition to the legal marriage vows.
Please note the following vows are not allowed, 'to have and to hold from this day forward, for better, for worse, for richer, for poorer, in sickness and in health, to love and to cherish, till death us do part'.
Although they do not seem to contain anything religious, they come from from the Book of Common Prayer and are the vows said during religious ceremonies and therefore cannot be included in a civil ceremony.
Exchange of Rings
The exchanging of rings is an ancient tradition that many couples still continue to do today. Serving as a constant reminder of the vows, promises and commitment you have both made. Traditionally the ring is placed on the fourth finger of the left hand, this comes from the belief that the vein in this finger runs directly to the heart. If you choose to exchange rings you can also honour someone with the role of ring bearer, a lovely way of including someone special in your ceremony.
As this isn't a legal obligation you can choose not to exchange rings, only exchange one ring, or exchange something else entirely, the choice is yours. If you have written personal vows these will be said at the exchange of rings. If you have chosen not to say personal vows the Registrar will likely have some words for you each to say as you exchange rings, something along the lines of, "I give you this ring as a symbol of my love and as a reminder of the vows I have made to you today, may you wear it with love now and always".
Formal Giving Away
This history of this tradition isn't such a nice one, as it comes from a time when women were the property of men. The giving away represented the transfer of ownership from a women's father to her new husband. We're pleased to say these days are over and the modern tradition of being 'given away' or 'escorted down the aisle' has transformed into a gesture of love and respect and a pledge of support to the couple.
Many brides still follow the tradition of having their father walk them down the aisle but this doesn't have to be the case. If you want to be accompanied down the aisle then anyone can do this; your mum, both parents, a sister, brother, your children, a friend, a grandparent, literally anyone you want. Alternatively you may prefer to make your entrance together as a couple, or maybe you don't want to make an entrance at all and would prefer to be ready with your guests for the start of the ceremony.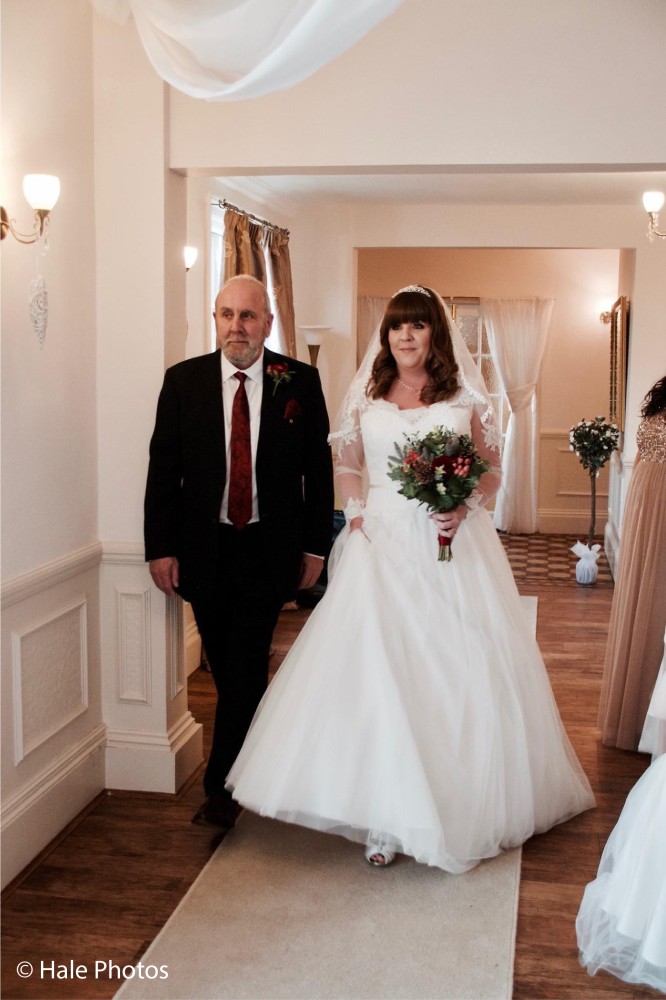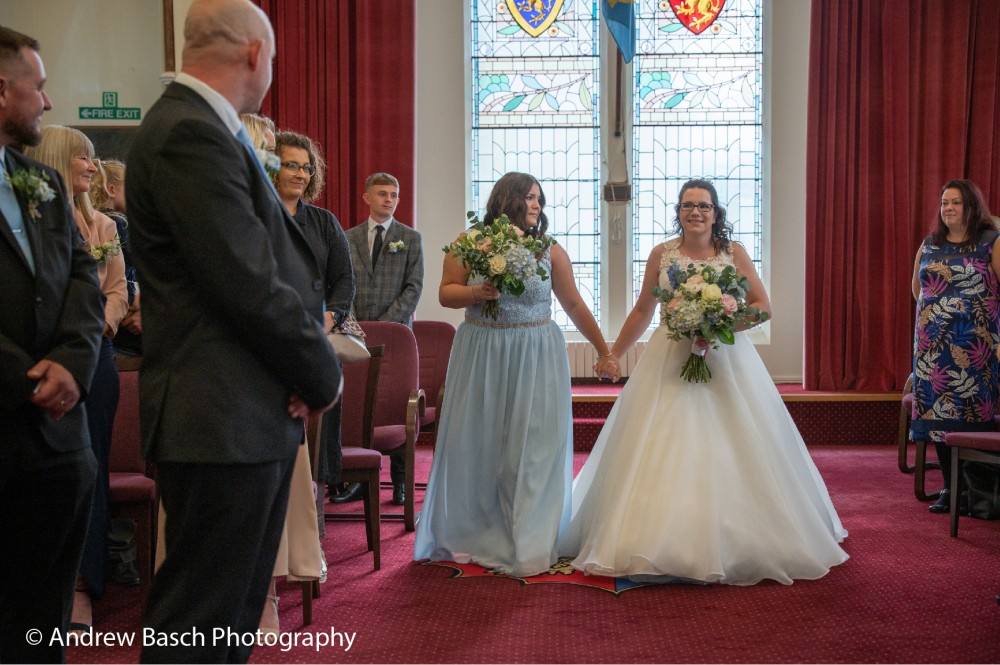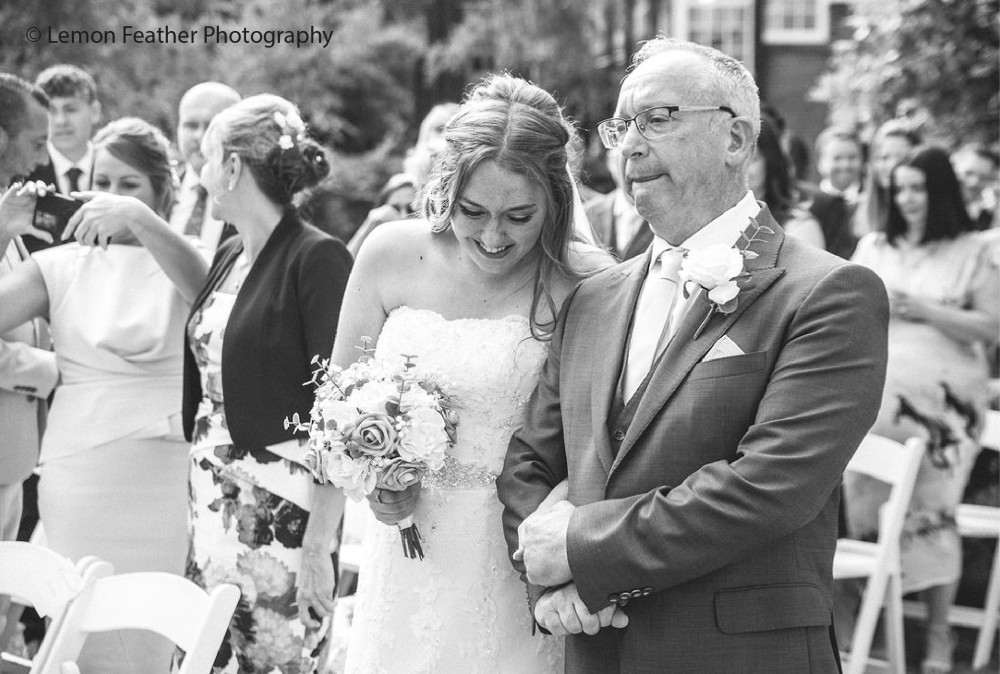 If you do decide to be escorted then you have a choice about whether you would like the Registrar to mention this or make it an official moment in your ceremony. Your escort can either take their seat once you reach the end of the aisle, or the Registrar can say a few words before they take their seat, this will be something along the lines of 'Relationships between family/friends are so important, and on occasions like today we can publicly acknowledge them and the love and respect (your name) and (your escorts name) share. Thank you for bringing (your name) here, can I ask do you give your support to (your name) and (your partners name) on this special day?'
Special Requests
We are happy to discuss any requests you may have. Please add details of any special requests to your Ceremony Options Form or call the Ceremonies Hub on 0345 60 80 198.
I'm ready to complete the Ceremony Options Form.
Ceremony Packs > Ceremony Options Form > Accessible Options Forms